About us and product compaign
we're the Startup Company which focus on music device, such like Bone Conduction speaker-Humbird/Blade, TWS ears, music accessories, and etc.we're based in SHENZHEN, CHINA,our team have 20+ years working experience on product devolopment and manufacture.
Below are the crowdfunding links of our product, kickstarter, Indiegogo, Makuake, TouchofModern, b8ta, ...
we launched on Kickstater, pls check the link as below:
Indiegogo campaign, link as below:
https://igg.me/at/3oNOcQfC2Fs/x/22190499#/
and the Japan campaign as below:
https://www.makuake.com/project/bladespeaker/
and the Korean campaign as below:
https://www.wadiz.kr/web/campaign/detail/95615
https://www.youtube.com/shorts/nh2TTuM32Rw

about story of Humbird speaker, actually, it's occasional chance we were trying the bone conduction earphone and it contact with cardboard box, the music come out and much bigger volume, that make us very interesting and exciting,
Then we decide to move forward, defined new component,optimize the performance, share this concept/product to more people. And we defined the product main point - small but powerful, just like humbird. make it as small as it can be.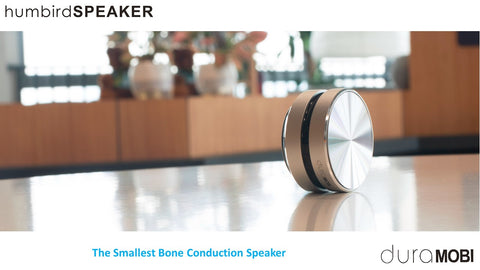 about Blade speaker, we defined the product main point - slim but powerful, make it as thin as it can be, just like a blade.